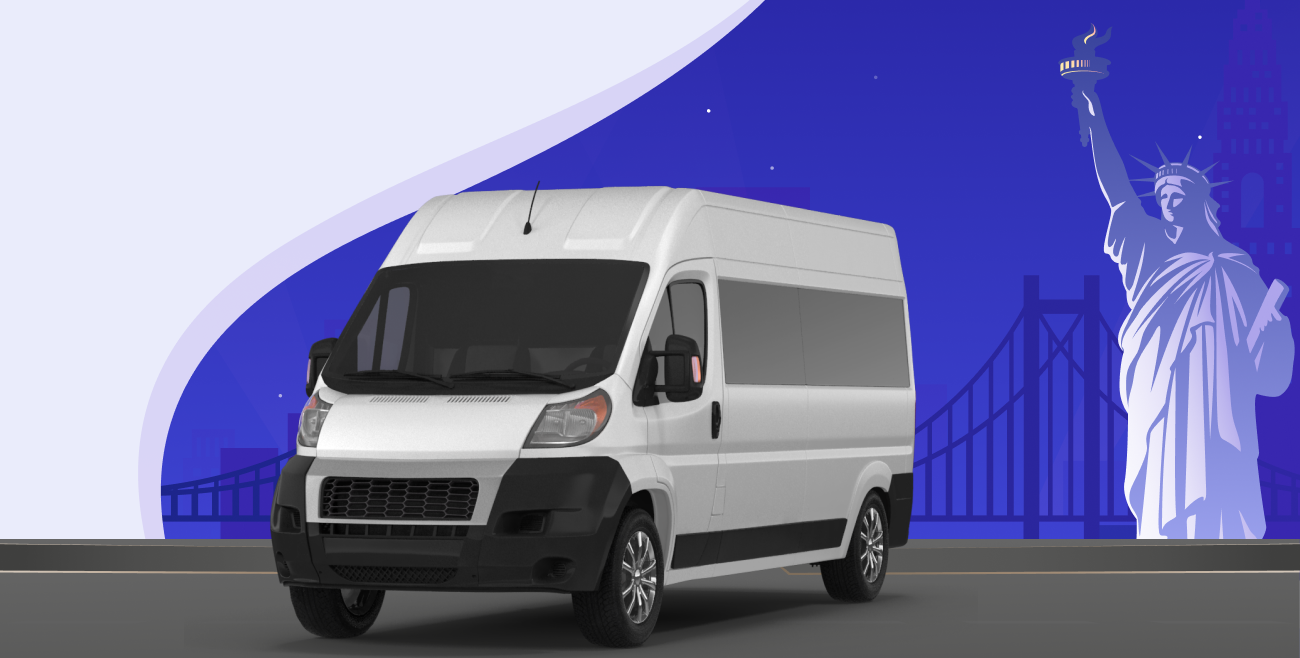 Additional Requirements from MAS that New York State NEMT Providers Should Be Ready For 
In August 2023, the New York State Department of Health (NYSDOH) selected Medical Answering Services, LLC (MAS) to be the central Medicaid Transportation Broker for the entire state.
MAS began initiating new contracts with transportation providers—or providers—across New York State in October.
As providers receive and review their new contracts from MAS, they will see new requirements that MAS has added.
This article analyzes these changes and breaks them into easy-to-understand categories: compliance, performance, and safety.
If you want to read more about the most significant changes affecting providers, check out our article on what transportation providers need to know about contracting with MAS.
Compliance
Several of the requirements from MAS include mandates that center around compliance. We've covered some essential issues that providers should be aware of.
Updated Transportation Provider Profile
Providers must keep their transportation provider profile (TPP) consistently updated and accurate to reflect their ability to transport patients.
If the TPP doesn't accurately reflect availability, the likelihood that a provider may refuse a trip invoice goes up dramatically. Trip refusals within 48 hours of the trip invoice pick-up time are ten times more likely to have a complaint reported by a stakeholder.
According to MAS, if the TPP doesn't accurately reflect the provider's availability, MAS will update the TPP itself to ensure it's correct.
An updated TPP will help mitigate unnecessary trip invoice refusals, especially when drivers fail to show up for a shift or when a vehicle unexpectedly breaks down.
When a provider must refuse a trip invoice, they will be able to choose from the following options before the trip invoice service date:
No provider resources in the pick-up ZIP code.
No provider resources at pick-up time.
Provider capacity has been reached.
MP canceled the trip invoice.
The enrollee canceled the trip invoice.
However, if MAS begins noticing a pattern of trip refusals, they may contact the provider and adjust their TPP to eliminate continued refusals.
Credentialing
There are several areas that MAS will continually monitor to ensure compliance.
They will consistently check the provider's insurance coverage, Medicare/Medicaid exclusion list, New York State driver's license status, and vehicle owner and registration status.
If MAS monitoring identifies non-compliance, it may lead to administrative action.
Following Local Requirements
To ensure compliance with the NYS Medicaid Transportation Policy Manual (MTPM), providers must follow the guidelines and requirements specific to their service modality.
They are responsible for understanding and adhering to the local requirements for their service and ensuring full compliance in any ZIP code where they request assignment for Medicaid transportation.
If a provider is non-compliant for any reason, MAS may take administrative actions such as requiring a Corrective Action Plan, changing the status of a driver, limiting their trip assignments, or taking any other necessary administrative steps.
Specific Change Requests
Providers must follow the specified times and addresses mentioned on the invoices.
If they need to make a change, the enrollee or medical provider should request them in advance through MAS.
Providers must direct all change requests to MAS, as any changes requested after services are provided may not get approval.
If a provider cannot provide transportation due to bad weather, accidents, or other unexpected events, they must inform MAS as soon as possible.
Providers are also obligated to keep their TPP up to date with any changes in their availability caused by holidays, closures, etc.
Performance
MAS established performance standards that providers must meet in its new contract agreements.
On-Time and Professional Service
Transport providers must provide timely and efficient services with rides lasting no more than an hour (except in specific cases).
They should have enough staff, including polite and considerate drivers, in a clean, smoke-free vehicle with proper heating/cooling.
Prompt and timely arrival for scheduled pick-ups is an essential practice.
MAS defines "on-time" as the exact scheduled pick-up time or within fifteen minutes before or after the scheduled time.
Drivers may arrive early, but the enrollee should not feel obligated to board the vehicle before the scheduled pick-up time unless the enrollee and driver agree.
Any arrival more than fifteen minutes after the scheduled pick-up time is a late pick-up.
Enrollee Communications and Expectations
To ensure a high level of service and efficiency, providers must dispatch a vehicle even if they can't communicate with the enrollee.
Providers should contact enrollees before their appointment and coordinate pick-up details to decrease the likelihood of enrollee no-shows.
MAS will continuously evaluate a provider's performance and customer service record for pick-ups to ensure that they meet the expectations of the enrollees.
If a driver waits for less than 15 minutes for enrollee pick-ups, which leads to a decline in enrollee satisfaction, the provider may face suspension from the MAS Network.
Pick-ups and Drop-offs
As mentioned, transporting enrollees to and from appointments on time is critical.
If the scheduled time is missed by more than 15 minutes, it is considered unacceptable as a timely service. For trips without a planned return time, the vehicle should arrive within one hour from when the provider is informed that the return trip is ready.
For same-day hospital discharge reservations, providers must pick up enrollees within three hours of receiving the trip reservation from MAS.
Providers are responsible for returning enrollees home promptly after their appointments. They must monitor the trips and inform MAS about any delays in the pick-up or drop-off of any enrollee to notify all concerned parties before the delay.
Finally, a transportation attendant or personal assistant not employed by the provider may ride with an enrollee at no additional charge if their service is necessary to assist the enrollee. The attendant or assistant should help the enrollee as requested.
Safety
Keeping enrollees safe during their trips is another top priority that MAS addresses with their additional requirements. Here are several that providers should be aware of:
Dropping Off Before an Office is Open: It is important to note that drivers can't drop an enrollee off for a medical appointment before the medical office or facility is open (ambulette level or higher).
If the provider is responsible for providing door-through-door service, do not leave the enrollee at a closed or inaccessible facility or location.
If enrollees can't safely access the facility, return them to their pick-up location.
Under-age Enrollees: All enrollees under 18 must be accompanied by a responsible parent or guardian to and from all medical appointments.
Providers shouldn't accept responsibility on behalf of the parent, guardian, or Medicaid program to sign children in and out of school, medical appointments, or medical programs.
Ambulette transportation doesn't replace a responsible parent or guardian accompanying a child to and from a medical appointment or program.
Traffic Violations: Providers understand that passenger safety is at the center of what they do, and MAS will also monitor this.
It's important to note that any confirmed reports of violating NYS or local vehicle and traffic laws during a Medicaid trip will go directly to the NYSDOH and other relevant government agencies.
It's essential to comply with vehicle and traffic laws during Medicaid trips, as any violation could be considered a false claim when filing for reimbursement.
Clean and smoke-free vehicles: Providers must meet all cleaning and disinfection requirements and reporting.
Providers should be aware of and comply with any additions, amendments, or changes to the document as it's updated.
Finally, providers should have policies and procedures in place to ensure all vehicles meet a tobacco-free and smoke-free environment.
The Road Ahead
The new contracts initiated by MAS for transportation providers in New York State come with additional requirements not previously in place.
These requirements primarily center around compliance, performance, and safety. Providers need to keep their TPP updated, adhere to local requirements, and meet the performance standards established by MAS.
Failure to comply with these requirements may result in administrative action.
Providers need to understand and prepare for these changes to ensure they continue to deliver high-quality transportation services to Medicaid patients and comply with the new standards set by MAS.