Make NEMT
Compliance Effortless
Automate how your dispatchers apply service codes for each trip, enhancing compliance and simplifying processes.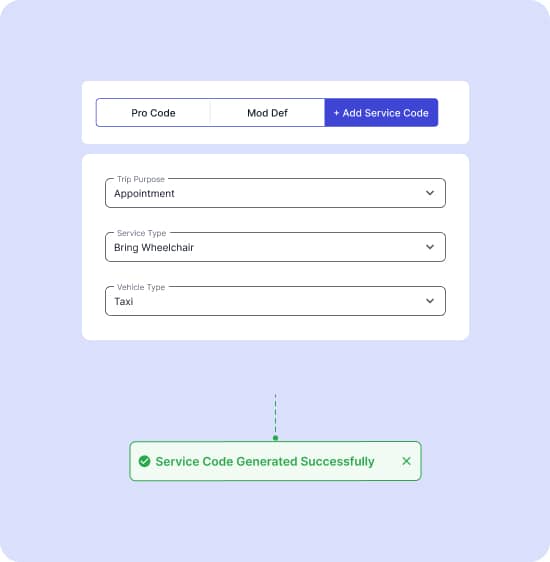 Auto Apply Pre-Defined Service Codes
EFFORTLESS CODE AUTOMATION
Tobi lets you predetermine your service codes and then auto-applies them to new bookings – taking the manual load off your dispatchers every time they create a new booking or import bookings in bulk.

Tobi also auto-maps trip bookings, pre-fills attestation forms with service codes, and auto-calculates trip fares, ensuring your business remains Medicaid-compliant.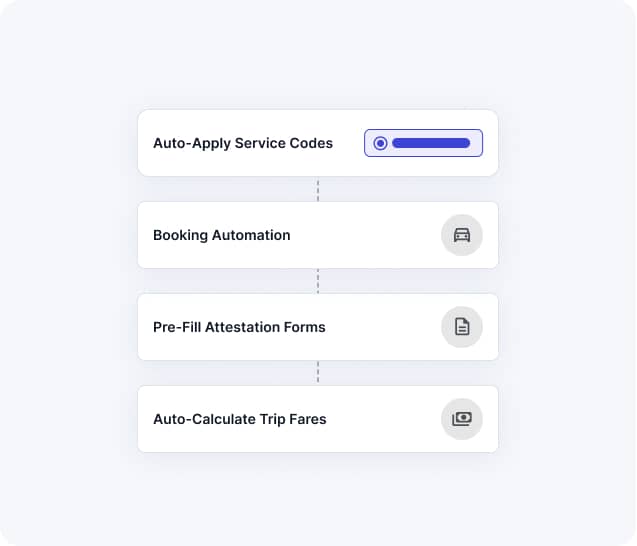 AUTOMATED COMPLIANCE ASSURANCE
Accuracy and Compliance Made Easy
Service codes, or procedure codes, are predefined by Medicaid. They form a critical part in your Medicaid claims process and ensure your NEMT business stays compliant.

Tobi auto-assigns these codes based on variables like service area and vehicle type, eliminating the risk of human error and ensuring every booking is compliant and correctly coded.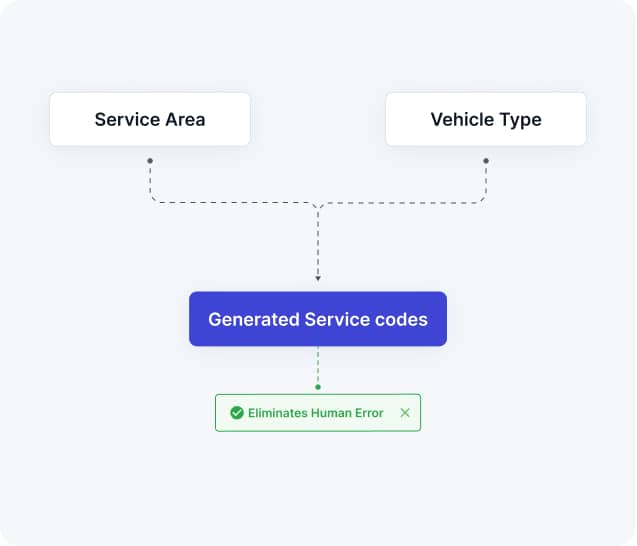 Matthew Scampini

Director, Suburban Transportation

"Tobi NEMT software has proved to be very helpful in my operations. My whole team is very pleased with the ease of operations and interface of the application.
I rate it 10 out of 10 in dispatch and navigation. Route scheduling and optimisation using the Tobi application enabled us to save a ton. Keep on doing the great stuff!"

Rose Dombrowski

Director of Transportation, 1st Choice Transportation

"Tobi NEMT software has completely changed my operations. We no longer have to do paper-based logging where our efforts go to waste. I can easily send precise last-minute ride requests to my drivers without miscommunication and mistakes."



Rated 5 Stars for Customer Service & Value for Money
NEMT fleet owners and dispatchers love our customer service and find Tobi to be a good value.

THE COMPLETE NEMT SOLUTION
Tobi Impacts All Areas of Your
NEMT Business
Tobi gives you all the tools you need to improve your NEMT
operations in one easy-to-use solution.