Non-Emergency Medical
Transportation (NEMT) Software
Streamline your NEMT operations with Tobi, an NEMT software solution created by industry veterans
to optimize every part of your NEMT workflow.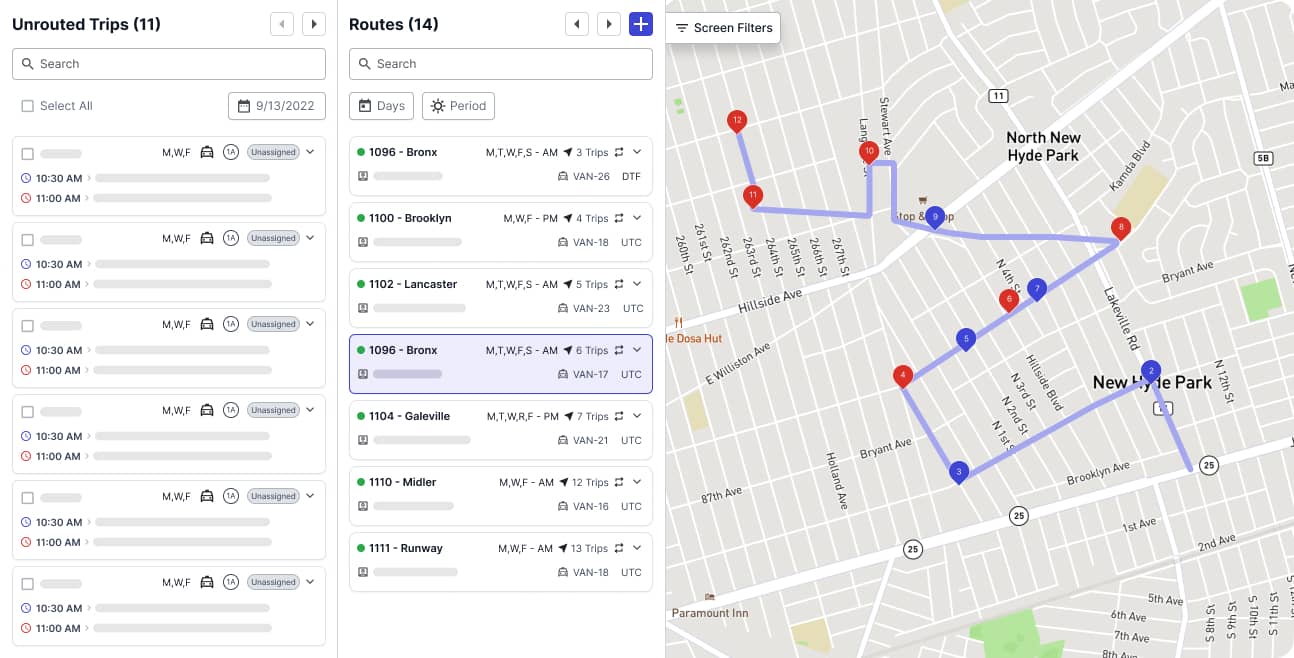 How Does Tobi Help NEMT Fleets?
Tobi is a single solution that's easy to integrate and simple to use. It gives you a set of tools to simplify, optimize, and automate the core functions of your NEMT operations.
Tobi's NEMT software helps you transform your business, ensuring on-time, efficient, and compliant services that meet the evolving demands of the NEMT industry.
Tobi streamlines operations, making your NEMT business more profitable. Tobi helps you log new trip requests, automatically integrates with major NEMT brokerages, and optimizes trip routes using its advanced algorithms.
Improve your fleet's utilization – and your bottom line.
Accommodate last-minute ride requests.
Leverage real-time driver tracking.
Open up communications between dispatchers and drivers.
Easily handle diverse vehicle requirements for rides.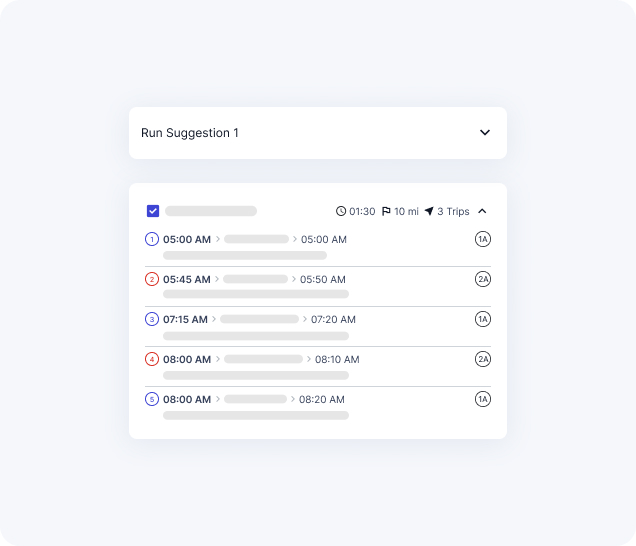 Tobi eliminates the manual work of scheduling. You can seamlessly import bookings, plan routes in advance, and boost productivity. Tobi's intelligent features handle them in minutes.
Easily schedule recurring appointments.
Use driver shifts more efficiently.
Intelligently prioritize urgent appointments.
Take patient cancellations or reschedule requests in stride.
Reorganize overlapping schedules to eliminate service delays.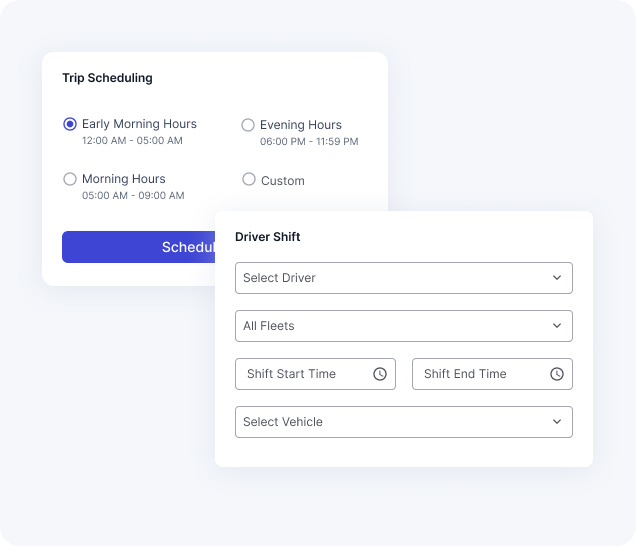 Tobi's intuitive interface manages diverse routing scenarios, handles real-time updates, and leverages intelligent algorithms to help your dispatchers do more in less time.
Minimize costs with better route planning.
Adjust routes in real time for last-minute changes.
Efficiently organize and meet special transportation needs.
Adapt to changing traffic or road conditions on the fly.
Accurately predict ETAs for patients and facilities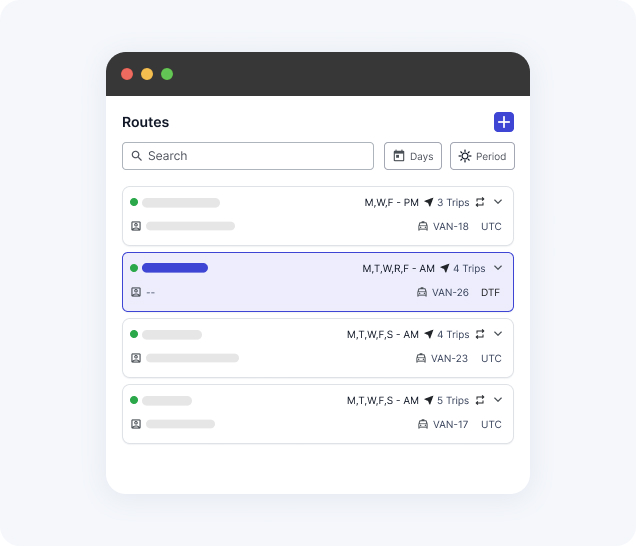 From generating accurate invoices to streamlining claims processing and monitoring payment statuses, Tobi makes your billing and claims management process seamless, accurate, and efficient.
Integrate with popular billing platforms.
Eliminate errors and inconsistencies in billing data.
Handle different insurance and payment methods.
Ensure compliance and proper documentation.
Easily track and monitor reimbursements.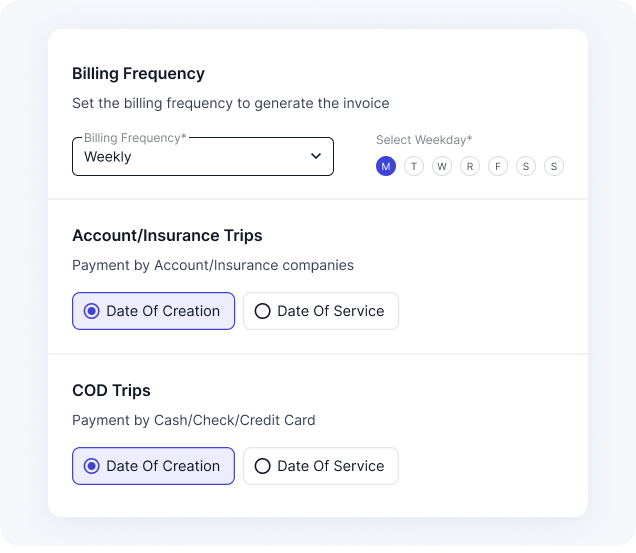 Achieve and maintain compliance effortlessly with Tobi. From real-time vehicle tracking to automatic documentation for billing, Tobi provides a robust framework to keep your NEMT operations in line with state and federal requirements.
Centralized operations for enhanced compliance
Real-time vehicle tracking with geofencing
Eliminate manual errors with e-attestation and claims management
Efficient driver shift management to adhere to work hour regulations
Seamless service code assignment to ensure compliant billing
Detailed reports for on-time performance and compliance mandates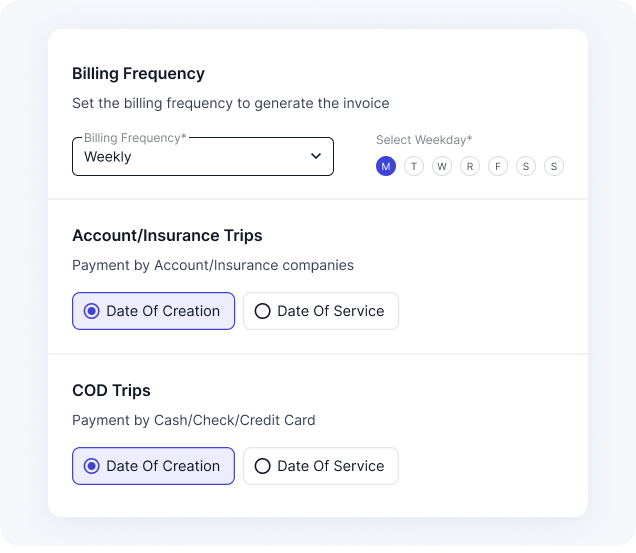 Tobi was built by industry experts to solve real-world NEMT challenges and streamline NEMT fleet operations.