Competitive Pricing, Maximum Revenue
Tailor your fares to fit your unique needs and ensure every ride earns the revenue it should.
Optimize Pricing to Plug
Revenue Leaks
Earn More Revenue Per Trip
Make the most out of every trip with our Advanced Pricing Models. Create price rules that are automatically applied based on parameters like area of service, vehicle type, service, time, or day of week, ensuring your pricing will always reflect the actual value of your service.

This dynamic pricing capability provides you with a powerful tool to maximize trip revenue while protecting your competitive edge in the market.
A Pricing Structure That Fits Your Business
With Tobi, you can set up a pricing structure that suits your business and customer needs. Create flexible pricing models that charge a premium during high-demand periods and keep prices competitive during off-peak days or seasons.
Maintaining a healthy balance between service availability and profitability gives you the flexibility to define your own success, whether you operate in a metropolitan or rural area.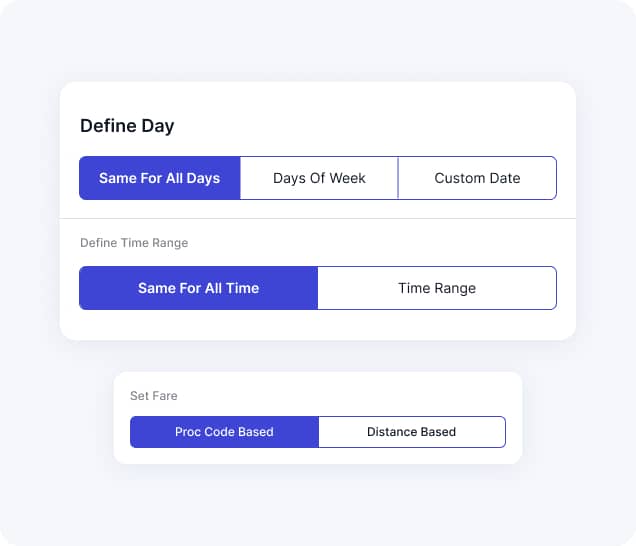 Matthew Scampini

Director, Suburban Transportation

"Tobi NEMT software has proved to be very helpful in my operations. My whole team is very pleased with the ease of operations and interface of the application.
I rate it 10 out of 10 in dispatch and navigation. Route scheduling and optimisation using the Tobi application enabled us to save a ton. Keep on doing the great stuff!"

Rose Dombrowski

Director of Transportation, 1st Choice Transportation

"Tobi NEMT software has completely changed my operations. We no longer have to do paper-based logging where our efforts go to waste. I can easily send precise last-minute ride requests to my drivers without miscommunication and mistakes."



Rated 5 Stars for Customer Service & Value for Money
NEMT fleet owners and dispatchers love our customer service and find Tobi to be a good value.

THE COMPLETE NEMT SOLUTION
Tobi Impacts All Areas of Your
NEMT Business
Tobi gives you all the tools you need to improve your NEMT
operations in one easy-to-use solution.