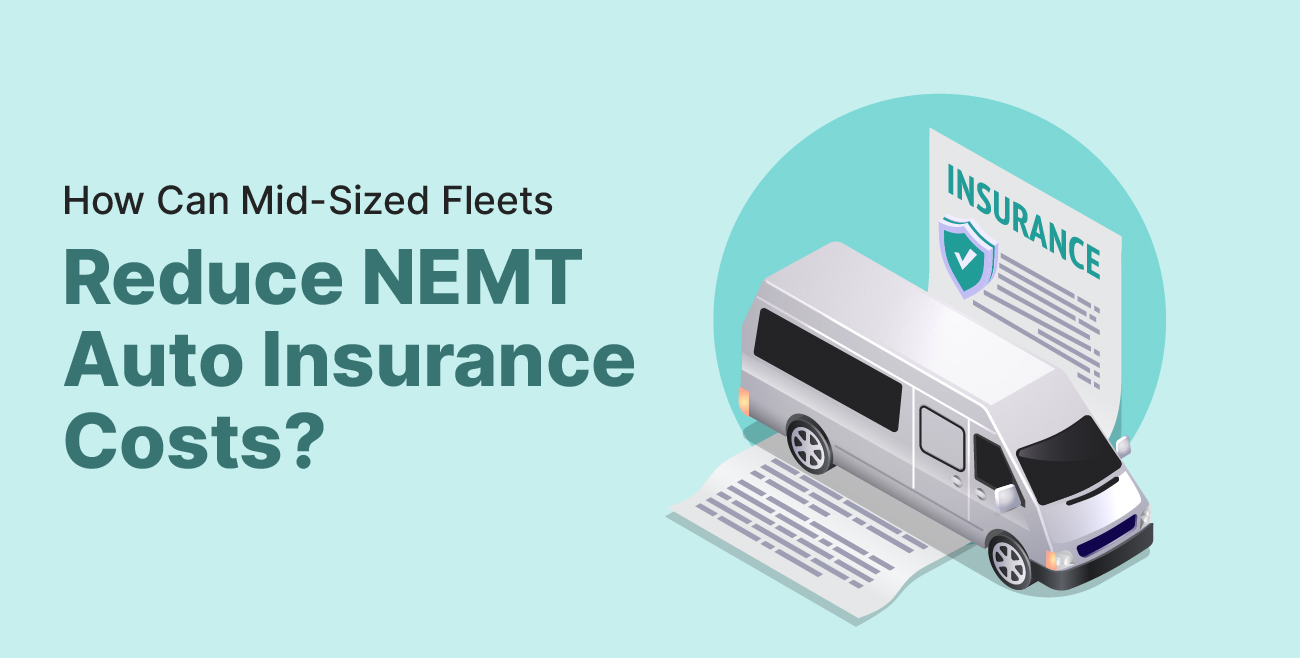 How Can Growing Businesses Reduce NEMT Auto Insurance Costs?  
Non-Emergency Medical Transport (NEMT) auto insurance coverage requirements are state-specific, so quoting an exact premium in general terms is nearly impossible.
However, the factors that affect the cost are easier to decode.
Insurance underwriters may have different risk assessments, underwriting guidelines, and rating methodologies to consider. But there are common factors that insurance companies will take into account. For example, a fleet owner's auto insurance premium usually increases if the fleet size is large, the vehicles in the fleet are new, or the business uses young drivers or drivers with poor driving records.
This blog aims to help NEMT business owners understand how to minimize the premiums on their NEMT auto insurance policy. It explains the average cost of NEMT auto insurance, factors affecting insurance premiums, and how to reduce insurance costs.
Why do NEMT Businesses Require Auto Insurance?
NEMT businesses are required to have auto insurance by law.
In an accident, the cost of repairing or replacing a NEMT vehicle, like a wheelchair van or a stretcher van, can be significant.
Auto insurance can help offset these costs, protecting a business from substantial financial loss. In addition, auto insurance also covers costs for damage to property and any injuries sustained by drivers, passengers, or anyone else involved in an accident.
What's the Difference Between NEMT and Commercial Auto Insurance?
Only businesses providing transport for individuals with medical needs use NEMT auto insurance.
Unlike commercial auto insurance, NEMT auto insurance covers specialized vehicles with wheelchair securements, lifts, etc. It also provides coverage for drivers, attendants, and passengers in case of an accident.
Plus, it covers any legal liability, like litigation costs, arising from accidents.
In addition, state and federal healthcare and health insurance regulations mandate NEMT vehicles to have specific levels of liability coverage, which may be higher than standard commercial auto insurance.
Types of NEMT Auto Insurance Coverage
Fleet owners can add several NEMT auto insurance coverage options, each significant for NEMT businesses. Here are the basic types of NEMT auto insurance coverage.
Commercial Auto Liability Coverage: It compensates for third-party property damage and injuries due to an accident.
Comprehensive Coverage: It protects against theft, vandalism, weather-related incidents, and damage caused by collisions.
Hired and Non-Owned Auto Coverage: It covers rented or leased vehicles and ambulettes that are not owned but still used for business purposes.
Uninsured Motorist Coverage: It protects against accidents involving uninsured or underinsured drivers.
Personal Injury Protection Coverage: It covers medical expenses, lost wages, and related costs resulting from an accident, regardless of fault.
Read our related blog for more details on the basics of NEMT auto insurance.
How Much Does NEMT Auto Insurance Cost?
To get an indicative cost, we asked NEMT fleet owners nationwide.
We found that NEMT auto insurance starts at $4,200-$7,200 and can go up to $18,000 per vehicle per year for a small/mid-sized fleet. The median cost we observed was around $12,000 per vehicle per year. These prices were for liability limits of $1,000,000.
These premiums align with the prices that Bankers Insurance quotes. They break down the average cost by region, estimating $3,500 for rural areas, $4,500 for suburban areas, $5,500 for urban areas, and $7,500 for large cities.
NEMT business owners should get quotes from a few different insurance providers to get an accurate cost for a particular area.
Factors Affecting the Cost of NEMT Auto Insurance
The cost of auto insurance for NEMT businesses can vary depending on many factors, like the type of vehicles used, the fleet size, the coverage limits, and the business location. Plus, premium costs also vary from one insurance provider to another.
Liability Limit
Auto liability coverage requirements can vary between states, with some mandating coverage that goes up to $1,000,000 to $1,500,000. The average NEMT insurance cost for a company will increase along with the policy's liability limit.
Driver History
NEMT businesses must submit the information of the drivers who will operate their vehicles when obtaining auto insurance. If the driver has many accidents or traffic violations on their driving record, it will probably result in a higher insurance premium.
Fleet Size and Maintenance Cadence
NEMT insurance costs are known to increase with the number of vehicles a business operates. The higher the number of vans, the higher the chances of accidents, regardless of the driver's experience level.
The vehicle's condition also affects the insurance premium. Vehicles in disrepair are at a higher risk of mechanical failure and will attract a higher premium.
The Vehicle's Value and Type
NEMT vehicles attract a higher premium than other commercial vehicles because of the cost of wheelchairs and stretcher vans. Brand-new vehicles might attract a higher premium initially because of higher value.
Also, there is a higher probability of legal liability with wheelchairs and stretcher vans because of the risk of injuries resulting from securing wheelchairs or stretchers improperly.
State and Area of Service
The areas of service of a NEMT business also affect insurance premiums. Areas with higher accident rates or traffic density will have a higher risk profile and will increase the insurance premium.
Claim History
A history of repeated claims may increase the insurance premium that you need to pay. Also, insurers extend a claim-free discount for the period NEMT providers don't make any claim. Any claims will remove this discount and cause premiums to increase the following year.
Usage and Mileage
The number of trips and distance a NEMT fleet covers affects the insurance premiums for NEMT auto insurance. The probability of accidents rises with an increase in the frequency of trips or mileage. Insurance companies factor in this additional risk and usually charge higher premiums.
Deductibles
A higher deductible usually means a lower NEMT auto insurance premium. Deductibles are the out-of-pocket expenses NEMT businesses agree to pay when making a claim. A higher deductible means fleet owners pay more over claims, attracting lower premiums.
How Can NEMT Fleets Reduce the Cost of Auto Insurance?
Insurance premiums and the factors affecting these premiums vary among insurers. However, some basic tips can help NEMT businesses keep premiums down.
Driving Safety Training
NEMT companies can reduce their auto insurance premiums by implementing a robust training program focusing on safe driving habits, defensive driving techniques, and accident prevention.
Insurance companies view safe driving practices as offsetting the risk of an accident and are more likely to offer lower premiums.
PASS Training
The industry standard PASS (Passenger Assistance, Safety, and Sensitivity) training gives drivers the knowledge they need to transport patients safely.
PASS training is an industry certification that attests to a NEMT driver's ability to secure specialized mobility equipment, among other things. It may help reduce the insurance premiums NEMT fleets need to pay.
Driver Screening
Fleet operators must also ensure that they are hiring qualified drivers with clean driving records.
Insurance companies view fleets with high-risk drivers as more accident-prone and are, therefore, more likely to charge higher premiums. Conducting background checks and regular driver screenings can help NEMT companies identify high-risk drivers and potentially keep their auto insurance costs low.
Vehicle Maintenance
NEMT fleet owners should also ensure their vehicles are well-maintained and regularly serviced. Regular maintenance ensures that vehicles are in good working condition and less likely to be involved in accidents.
Using the Latest Technology
Service providers can use fleet operations management technology like NEMT software to improve trip safety. With GPS features that track vehicles in real time, NEMT companies can monitor vehicles and respond quickly to incidents.
Companies can also collect and use historical data to improve their driver training programs and reduce the risk of accidents.
Conclusion
Navigating the complex insurance landscape can be challenging. Fleet owners should strongly consider consulting with local insurance agents and comparing policies between insurers.
An experienced insurance agent can also guide NEMT providers through the state-specific intricacies of NEMT auto insurance.
By understanding the available insurance options and working with the right insurance agent, NEMT providers can ensure adequate protection against financial losses and legal liability.