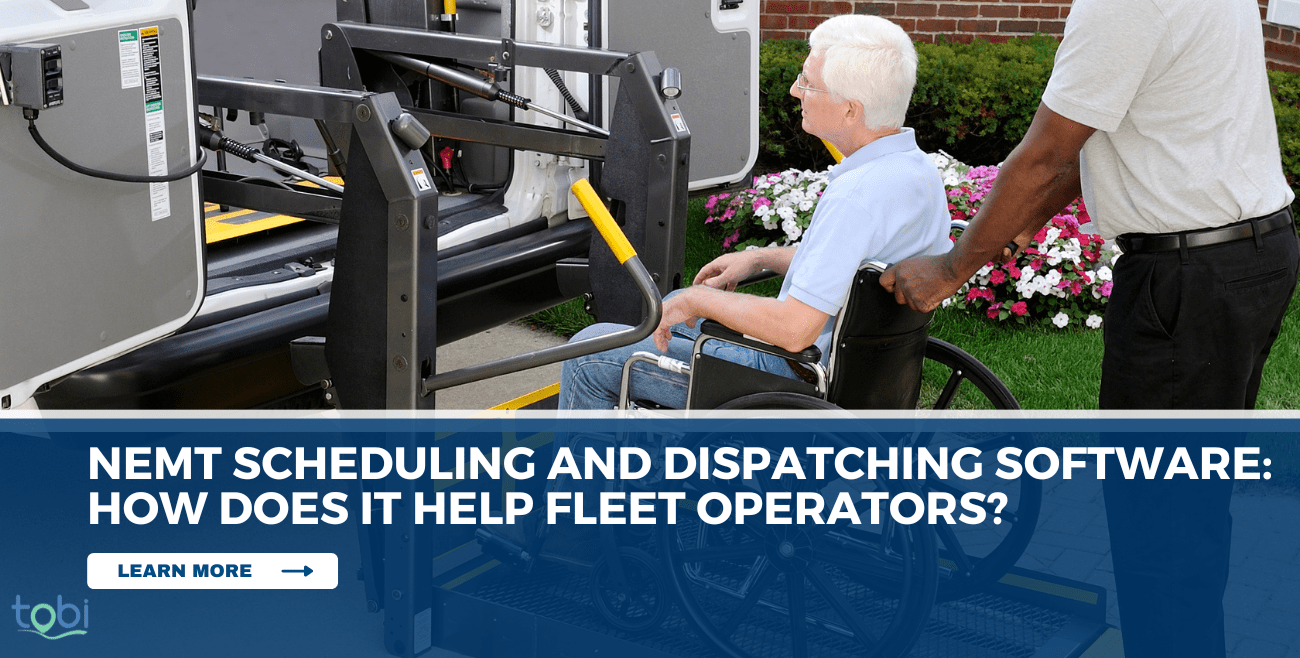 How NEMT Scheduling and Dispatching Software Benefits Fleet Operators
Non-Emergency Medical Transport (NEMT) scheduling and dispatch software can be handy for NEMT transport providers.
NEMT software can address logistical and administrative challenges in managing services.
In this article, we'll discuss how NEMT software can streamline operations for transport providers, improve the patient experience, increase flexibility for medical staff, and make it easier to provide care to those who need it most.
What is NEMT software?
NEMT software is a comprehensive system designed to simplify the transportation planning process.
It has modules designed to address specific parts of NEMT management, including scheduling and dispatching.
NEMT software can help streamline transportation operations by consolidating communication, data access, and resource management. The software provides an online platform that offers route optimization, automated scheduling and notifications, fare management, real-time road visibility, and user authentication.
This intuitive tool allows business owners to manage their NEMT business more efficiently while offering exceptional passenger convenience.
Using the software, NEMT operators can create individual trips or regular routes with a few clicks.
It also makes it easy to monitor all fleet activity from a central dashboard accessible through an internet connection.
How does NEMT software work?
NEMT software provides an efficient way to manage vehicle dispatching, scheduling, and tracking.  
Transportation providers can easily accept incoming bookings, assign a driver for a trip, and create efficient routes to complete the journeys. The software also optimizes operations planning by helping estimate arrival times and calculate estimated trip times.
After completing the trips, providers can utilize the software's robust features to review data on driver performance, record billing information, and follow up quickly with any customer inquiries or issues.
All these features help ensure that both NEMT providers and their customers enjoy a more effortless, faster, and stress-free experience.
How is the NEMT software changing the industry?
The NEMT industry is undergoing a revolution.
With intelligent NEMT software, it's now much easier for health providers, transit companies, and independent vendors to manage and coordinate non-emergency medical ride services on behalf of their members.
This innovative technology also helps reduce the risk of missed rides, reducing costs and improving the experience for beneficiaries of the service.
Plus, with efficient routing, real-time GPS updates, and trip status updates, this revolutionary technology provides a safer ride experience for patients.
What is route planning?
Route planning is the process of optimizing an NEMT trip.
It goes beyond identifying the shortest route from the start point to the destination. Traffic, speed limits, parking restrictions, and the number of stops are some factors that need to inform route planning.
Modern route planning uses technology to allow fleet operators to accommodate their riders' unique travel routes, manage trips more efficiently, anticipate delays, and make real-time adjustments.
NEMT software can identify the shortest and most efficient path that stops at each destination exactly once and adapts to real-world conditions.
With this technology, fleet operators can provide a streamlined ride experience that satisfies customers and creates broader operational savings.
How does multi-trip route planning fit here?
NEMT software has revolutionized multi-trip route planning. The software provides real-time updates on vehicle availability.
Access to this data instantly without relying on manual tracking allows route planners to plan trip rosters quickly and efficiently.
Not only does it save time, but it also reduces stress by streamlining the process. 
Route optimization algorithms enhance efficiency and user experience, making a fleet operator's job easier.
Benefits of Using NEMT Software
NEMT scheduling and dispatch software can be an asset for businesses in the NEMT industry.
Not only does it enable more efficient and accurate bookings, but it also helps streamline NEMT operations:
Using NEMT software reduces manual paperwork.
It improves the accuracy of documentation of trip details.
NEMT software helps manage staff scheduling to cover peak times or periods of unavailability.
Automated booking reminders ensure accurate trip dispatching.
NEMT software helps monitor and track the efficiency of vehicle drivers.
It provides access to extensive analytics on vehicle utilization data and performance metrics.
The automated billing feature in NEMT software helps fleet operators save time.
Standard Features in Popular NEMT Software
NEMT scheduling and dispatch solutions are incredibly useful in creating a more efficient and organized experience for medical transportation providers and the patients who utilize these services.
Most NEMT software comes with some standard features, like:
Two-way trip confirmation
Real-time driver notifications
Real-time vehicle tracking
Automated dispatching
Trip scheduling and updates
Billing and claims management
Compliance management systems
Database archiving systems for patient data storage and retrieval
These features give transportation operators greater visibility into business efficiency and performance, leading to cost-effective fleet management strategies.
NEMT software provides better accessibility and convenience through efficient fleet utilization.
A Software that Works for Your Business
NEMT scheduling and dispatching software provides a valuable tool for NEMT transport providers to manage their operations.
It enables improved coordination between medical service providers, streamlines database management, and helps reduce labor costs associated with NEMT operations.
By optimizing time and resources, NEMT software facilitates efficient transportation of patients to medical appointments and improves customer satisfaction.
In short, it is an invaluable instrument in helping fleet operators stay organized.
Ready to give it a spin? Try Tobi free for 30 days and see how your NEMT operations can be better at every turn.