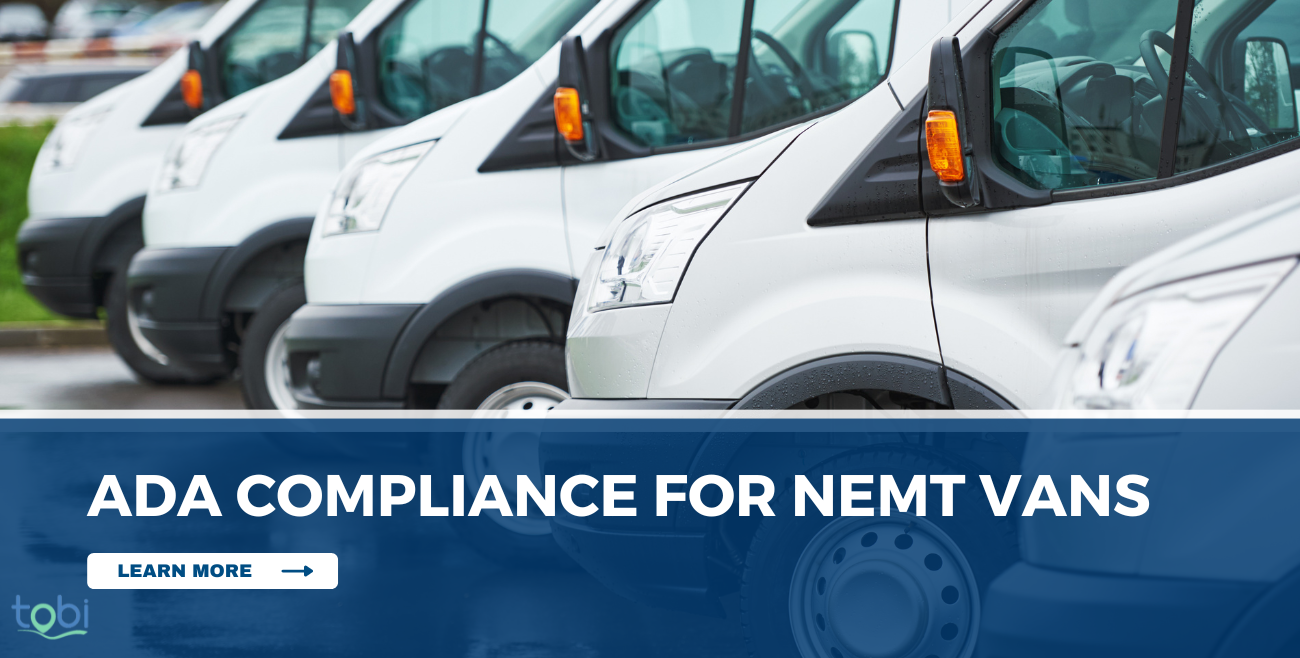 ADA Compliance for NEMT Vans
The Americans with Disabilities Act (ADA) is a civil rights law that addresses discrimination against people with disabilities. It covers all areas of life, from employment to public transport. President George Bush signed the ADA into law in 1990.
In 2008, the Americans with Disabilities Act Amendments Act (ADAAA) changed how a disability was defined to be more inclusive.
Do NEMT vehicles need to be ADA-compliant?
The short answer is yes.
On a federal level, the Department of Transportation's ADA regulation applies only to public transportation.
Any public entity that provides public transportation must comply with the ADA.
Any private entity that provides public transit must use ADA-compliant vehicles.
ADA regulations also cover private entities that operate a demand-responsive or fixed route system.
Even though the ADA does not apply to private NEMT vehicles, states often have stand-alone regulations requiring NEMT vans to obey ADA regulations.
Individual states can mandate NEMT fleet operators to use ADA-compliant vehicles, e.g., Virginia.
ADA Guidelines for Handicap Accessible Vehicles
New, used, or modified vans are required to comply with the standards set out in the ADA for wheelchair-accessible vans.
Read the full text of the relevant section of the ADA: https://www.ecfr.gov/current/title-49/subtitle-A/part-38#subpart-B
Here is a quick summary of the significant takeaways from this section.
Lifts
A lift should have handrails on two sides. Its design load should be at least 600 pounds and have a safety factor of 6 or higher for working parts that undergo wear and tear. For non-working parts, the safety factor should be three or higher.
The lift must have a method for emergency deployment and should not rapidly deploy or fall if the power fails.
Lifts should also have platform barriers to ensure that wheelchairs don't accidentally slip or roll off them.
Lift platforms
Each lift platform should be slip resistant and have a barrier one-and-a-half inches high on either side. This barrier should not limit wheelchair access to the vehicle.
The surface of the platform should be smooth and should not have any bumps or projections over 1⁄4 inch high.
Each lift platform should have a clear width of 28-and-a-half inches.
The platform should have a minimum clear width of 30 inches, measured from 2 inches above the platform to 30 inches above the platform.
The platform should have a minimum clear length of 48 inches, measured from 2 inches above the surface of the platform to 30 inches above.
Ramps
Ramps longer than 30 inches should support 600 pounds; ramps shorter than 30 inches should support a load of 300 pounds. The maximum slope the ADA mandates varies according to the design of the ramp, but on average, it should be 1:4.
Ramp surfaces should have a clear width of 30 inches, be slip resistant, and not have any bumps or projections over 1⁄4 inch high.
Handrails on ramps aren't mandated. However, if present, they should be continuous, between 30 to 38 inches above the ramp, comfortable, and sturdy.
Securements
Each vehicle must have a device or attachment to secure the wheelchair or mobility aid against movement when in transit, in addition to a passenger seat belt and shoulder harness. The securement area should be as near the accessible entrance as possible.
It must have a clear floor area of 30 by 48 inches (the clear space may overlap an access path). Up to 6 inches of this clear space can be a footrest under another seat. However, the overhang for this seat should be at least 9 inches above the floor.
Slip-resistant surfaces
The ADA guidelines mandate that all aisles, steps, floor areas in the vehicle, and floors in the securement areas, should have anti-slip surfaces
Contrast
To provide a visual aid, all steps, thresholds, and boarding edges in ramps and lifts should have a band of color running its entire width. This band should contrast clearly with the step or surface.
Door height
Regulations define the minimum clear height between the top of the door opening and the highest point of a ramp or lift platform.
The mandated clear height of the door is:
For vehicles more than 22 feet long, it should be a minimum of 68 inches.
For vehicles up to 22 feet long, it should be a minimum of 56 inches.
Interior handrails
The doorways and entrances to the vehicles need to have handrails. Also, handrails are necessary if it's unsafe to board, get off, move around, and sit down or stand up.
Interior handrails or supports should allow turning or movement for wheelchairs or mobility aids to reach their securement areas.
Lighting
A stepwell or doorway, including one with a lift or ramp, should provide at least two foot-candles (21.5 lumens) of illumination. The doors also need shielded external lighting of one foot-candle (10.8 lumens) illumination on the street surface.