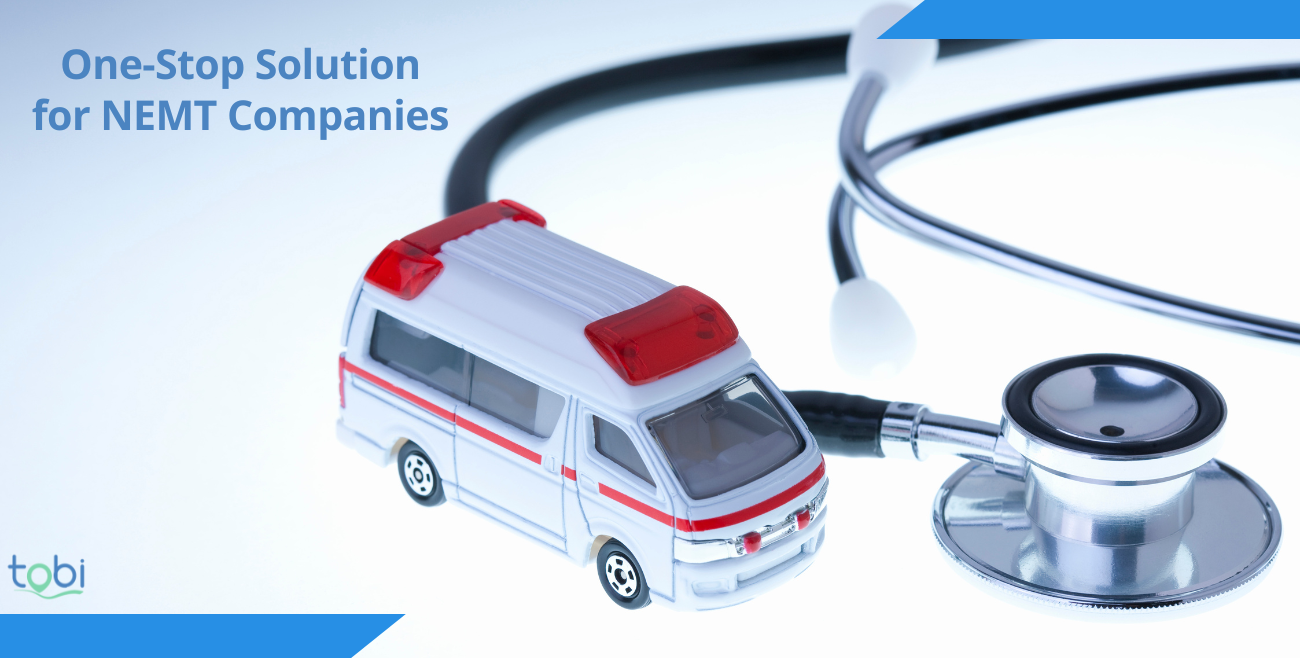 Why Tobi is a One-Stop Solution for NEMT Companies? 
The Non-Emergency Medical Transportation (NEMT) market in the US is worth upwards of $15 billion. And this is projected to grow at a blazing rate of almost 8% yearly until 2028. Clearly, this is a growing market.
If you're thinking of starting an NEMT business, one of the first tools you'll need is NEMT software. NEMT software delivers many business advantages that will help you outperform your competitors.
However, determining if an NEMT solution meets the needs of your business can be difficult. That's why we designed Tobi Cloud to be a one-stop NEMT software solution.
What is Tobi Cloud?
As the name implies, Tobi Cloud is a cloud-based NEMT solution. It brings together transport operations and business intelligence in one platform.
NEMT providers used to need separate tools for dispatch, scheduling, billing, and reporting. Tobi Cloud gives you the power to do everything from a single software solution.
Not only that, but all of those formerly disparate tools work together seamlessly. Tobi Cloud removes the hassle of maintaining multiple software platforms and integrating incompatible systems.
How Tobi Cloud Works
Traditional NEMT providers receive requests from patients or care providers (like hospitals or clinics). Providers log in these requests into their system to begin processing them.
Providers then collect any necessary pre-authorizations, and then the trip is assigned to either a contractor or a vehicle in their fleet or network. The vehicle driver then must interact with the passenger directly. The driver then picks them up and drops them off according to a pre-arranged and fixed route. With traditional NEMT companies, these are all manual operations.
Tobi Cloud does all this and more through a single platform. We also have a driver's app that simplifies live tracking, monitoring, and trip-end documentation.
Tobi Cloud Addresses Common NEMT Business Challenges
Tobi Cloud's end-to-end feature set helps you address the common issues that come with running an NEMT business.
Customer experience – Late arrivals, no-shows, missed appointments, etc., can negatively impact your scheduling. Tobi Cloud enables you to mitigate that impact with highly responsive customer service and timely driver-passenger communication. With Tobi Cloud, you deliver the best possible customer experience every time.
Flexibility – With a fixed or rigid structure of operation, traditional NEMT providers cannot be responsive to time-sensitive requests or last-minute changes. Tobi Cloud gives you the flexibility to meet your customers' needs without disrupting your scheduled rides.
Oversight – Our built-in data collection process is a crucial business advantage of Tobi Cloud. Providers can now access external data sources to analyze their performance and ensure transparency and compliance with state and federal laws.
Fraud prevention – Without sufficient data and transparency, abuse of the system could leave your business vulnerable to insurance fraud investigations. Tobi Cloud provides fraud prevention measures like automated trip attestation to keep your business safe.
Efficiency – Tobi Cloud enhances your operational efficiency with AI and machine learning. Our proprietary algorithm learns your company's trip patterns, and our AI engine optimizes your dispatching.
Top Features of Tobi Cloud
We designed the Tobi Cloud Software platform to help fully automate and streamline the daily activities of NEMT operators. It includes all of the most popular NEMT software features. Here are the top features of Tobi Cloud.
Multi-fleet Capability
Often, NEMT companies need to engage multiple fleets to scale up demand. Or, if your transport company acts as a broker, you want to keep disparate fleets siloed because each of them will work independently.
Using our unified platform, Tobi Cloud enables your business to manage several fleets or even different companies.
Customized Price Modeling
Not all rides cost the same. It makes sense to raise prices during rush hours or periods of high demand to reflect these variances. Sophisticated price models are essential for this.
Tobi Cloud enables your business to set up specific pricing rules to make your job easier. Once the pricing rules are set, the system automates ride-pricing accurately.
Real-time GPS Tracking
Tobi Cloud gives you access to real-time GPS-based monitoring and tracking of vehicles. GPS ensures that customers receive real-time updates on drivers' locations and simultaneously enables transparency and accountability of all drivers in your network.
Automatic Trip Attestation
Post-trip documentation can be a real problem for many organizations. Everybody likes to get paid quickly, without any hiccups. With Tobi Cloud, you can get your trips attested automatically once a ride ends so that your documentation is done and payments are received faster.
In-built Accounting Software
Bookkeeping is an essential part of any business. With Tobi Cloud, you get a one-stop NEMT software platform that can track accounts receivables, generate and track invoices, track insurance claims, and generate statements.
Billing and Insurance Claims
Tobi integrates invoicing and billing into the platform, so you don't need to purchase separate NEMT billing software. Integration is also available with the most popular billing software platforms if you feel more comfortable sticking with the software you use.
Customer-facing Portal
Tobi Cloud has a sleek portal for customers – patients, clinics, hospitals, etc. – where they can seamlessly book rides, track vehicles, and pay. Plus, you can open up this portal for use by anyone you choose.
Easy Integration
These features cover almost every routine function that NEMT operators carry out daily. However, Tobi Cloud also includes an open ecosystem that can adapt to any platform. So, whenever you need to work with any software used by your partners, brokers, or contractors, Tobi Cloud has you covered.
How Does Tobi Cloud Help NEMT Companies
You have seen the many features of the Tobi platform, so how does Tobi Cloud help NEMT companies earn more?
Tobi Cloud NEMT Software uses the latest technology innovations that deliver an edge to NEMT businesses over their competition.
With Tobi Cloud, you can:
Quickly scale your business
Minimize the need for manual dispatchers
Enable a wider reach for rapidly growing your business
Offer on-demand services to customers
Improve driver satisfaction and retention
Enhance the customer experience
Reduce instances of fraud
Increase business efficiency
Minimize human error
Meet all compliance and regulatory requirements
How does Tobi Cloud compare?
Now that we have shown you how Tobi can help your business become more efficient using technology, let us compare the features we offer with other NEMT software providers in the market.
| | | | | | |
| --- | --- | --- | --- | --- | --- |
| | TobiCloud | TripMaster | RydeWizz | RouteGenie | TripSpark |
| Variable pricing (small, midsized, and enterprise-level) | ✔️ | ❌ | ❌ | ❌ | ❌ |
| Dispatching (real-time and pre-scheduled) | ✔️ | ✔️ | ✔️ | ✔️ | ✔️ |
| Real-time status updates of trips | ✔️ | ✔️ | ✔️ | ✔️ | ✔️ |
| Mobile app for drivers with real-time updates | ✔️ | ✔️ | ✔️ | ✔️ | ✔️ |
| Advanced reporting | ✔️ | ✔️ | ❌ | ✔️ | ✔️ |
| Import trips via CSV or API | ✔️ | ❌ | ❌ | ✔️ | ✔️ |
| Automatic invoicing (daily, weekly, monthly) | ✔️ | ❌ | ✔️ | ❌ | ❌ |
| Billing via Medicaid service code or private pay | ✔️ | ❌ | ❌ | ❌ | ✔️ |
| Record payments against the payer | ✔️ | ❌ | ❌ | ✔️ | ❌ |
| Sophisticated pricing models and rules | ✔️ | ❌ | ❌ | ❌ | ❌ |
| Bookkeeping (account, patient, or trip-level reconciliation) | ✔️ | ❌ | ❌ | ❌ | ❌ |
| Automated claims submission | ✔️ | ❌ | ❌ | ❌ | ❌ |
| Automated attestations | ✔️ | ❌ | ❌ | ❌ | ❌ |
| 24×7 email and phone support* | ✔️ | ❌ | ❌ | ❌ | ❌ |
| Customer onboarding support* | ✔️ | ❌ | ❌ | ❌ | ❌ |
*Available with some subscription models only. Please get in touch with us to know more.
As the features of Tobi Cloud show, it really is a one-stop solution for NEMT companies. From planning, dispatching, scheduling, and billing trips to attestation and filing insurance claims, Tobi Cloud is an end-to-end NEMT operations software for NEMT companies.
So, if you're wondering whether to modernize your legacy NEM transport or paratransit operations, or if you want to upgrade your present software solution, reach out to us. We will be thrilled to demonstrate how Tobi Cloud can revolutionize your business.