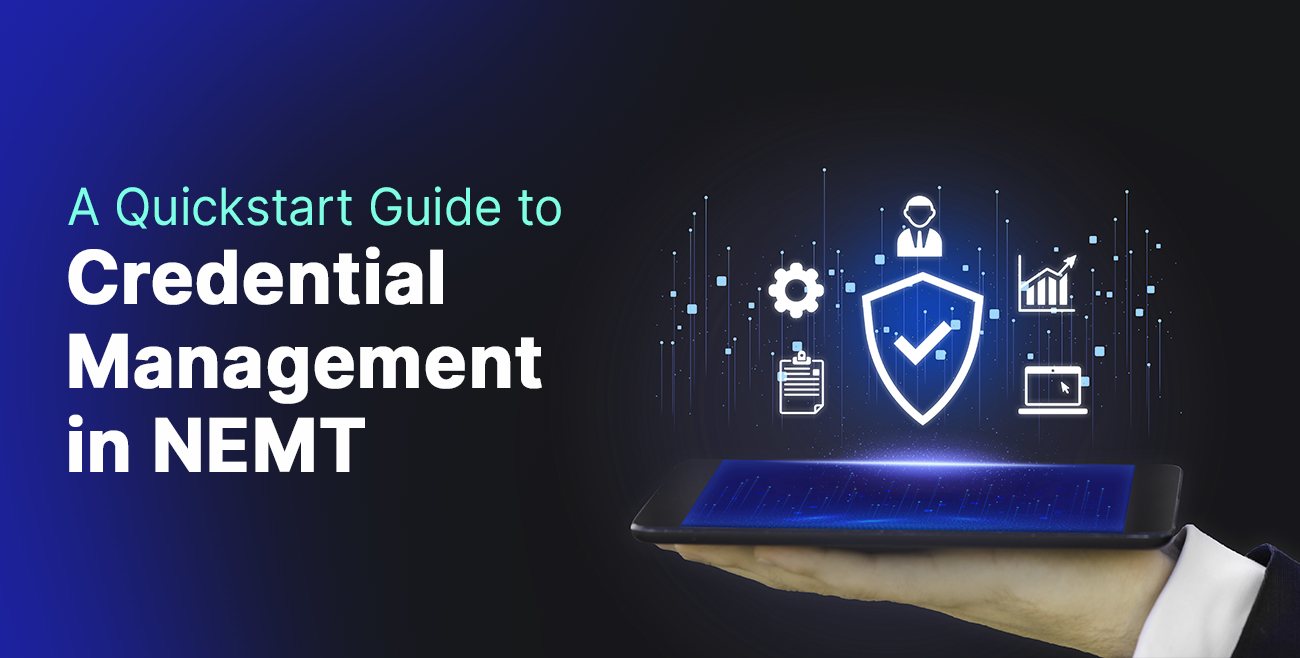 NEMT and Credential Management
The non-emergency medical transportation (NEMT) industry is experiencing an unprecedented surge in the United States, driven by the rising demand for reliable transportation services among individuals who require non-emergency medical assistance.
This growth propels the industry towards a predicted annual market size of $12 billion by 2028. As the industry expands, so do its regulations, primarily through Medicaid. Effective credential management is now vital in the NEMT sector.
This article explores the concept of credential management and its importance in the NEMT industry.
What Is Credential Management?
Credential management or "credentialing" is a systematic process of organizing, verifying, and maintaining the credentials required for NEMT providers and their drivers. These credentials prove that your transportation service is qualified, compliant, and competent, thus guaranteeing safety and reliability.
What Is the Importance of Credentialing in the NEMT Industry?
It is a legal mandate for NEMT providers and their drivers to maintain proper credentials. Without the right credentials, you cannot legally provide NEMT services.
It also shows that you are committed to quality, safety, and following rules and regulations to protect customers. As a result, it helps build trust with patients, healthcare facilities, and regulatory authorities.
Understanding NEMT Credential Requirements
To run a successful NEMT business, you need credentials for your business and drivers. Here's what you need to know about each.
Credentials Required for NEMT Business
To function as an authorized NEMT provider, obtaining and maintaining various credentials is necessary to comply with the legal requirements.
Business License: A valid business license is required to operate as an official NEMT provider within your state or jurisdiction.
National Provider Identifier (NPI): An NPI number is a unique identifier assigned to healthcare providers—including NEMT companies—by the Centers for Medicare and Medicaid Services (CMS). It helps process electronic transactions and ensures proper identification in the healthcare system.
STS Certification: Special Transportation Services (STS) certification is often required to participate in Medicaid and Medicare transportation programs. This certification ensures compliance with specific standards and regulations for NEMT providers.
Insurance Coverage: Adequate insurance coverage, including auto liability and medical coverage, is essential to protect your organization and the patients you serve. Insurance requirements may vary depending on local regulations and contractual obligations with healthcare providers. However, for most states, Medicaid mandates a liability cover of $1.5 million for commercial NEMT auto insurance.
Types of Credentials Required for NEMT Drivers
The credentials for your NEMT drivers are as necessary as your organizational credentials. Here are some typical credentials required for NEMT drivers:
Driver's License: A valid driver's license is a fundamental requirement for any NEMT driver. It ensures that drivers are legally authorized to operate the designated vehicles.
Safe Driving Record: A comprehensive driving record check helps assess a driver's history, including incidents such as rash driving, accidents, or traffic violations. A clean driving record demonstrates a commitment to safety and responsible driving practices.
CPR and First Aid Certification: NEMT drivers should be certified in CPR and First Aid. These certifications equip drivers with the necessary skills to handle medical emergencies that may arise during transportation.
PASS Training: Passenger Assistance and Safety Skills (PASS) training is essential for NEMT drivers to ensure passengers' safe boarding, securing, and disembarking. It equips drivers with the knowledge and techniques to handle various mobility aids and assist passengers with special needs.
ADA Training: The Americans with Disabilities Act (ADA) sets guidelines and requirements for transporting individuals with disabilities. ADA training ensures that NEMT drivers know and comply with these regulations, providing accessible and non-discriminatory transportation services.
Background Check and Drug Testing: Thorough background checks, including criminal history checks and drug testing, are essential to evaluate the trustworthiness and suitability of NEMT drivers. These measures help safeguard patients' well-being and maintain your organization's integrity.
Consequences of Inadequate or Improper Credential Management
Neglecting proper credential management can have far-reaching implications in the NEMT industry.
Legal and Regulatory Non-Compliance
The NEMT industry is subject to strict legal and regulatory requirements, and proper credential management is crucial for maintaining compliance. Failure to meet these requirements can result in legal consequences, fines, and even the suspension or revocation of your organization's operating license.
Patient Safety Risks
Inadequate credential management poses a direct threat to patient safety. Without proper verification and maintenance of credentials, there is a higher risk of incompetent drivers being behind the wheel, potentially jeopardizing the well-being of patients during transportation.
Damage to Reputation
Poor credential management can harm your reputation among potential clients and the industry. It is crucial to prioritize proper credential management to establish your organization as a trustworthy and reliable transportation provider, which can help foster positive relationships with healthcare facilities and patients.
Operational Disruptions
Inefficient processes, delays in obtaining or renewing credentials, and documentation inconsistencies can hinder your operation's smooth functioning. These disruptions can result in missed transportation appointments, decreased productivity, and strained client relationships.
Compromised Data Security
Poor data security practices can trigger breaches that reveal confidential information like driver records, patient data, compliance documents, and other sensitive materials. Such breaches not only compromise the privacy and security of individuals but can also lead to legal liabilities and regulatory penalties.
Credential Management with Technology
The NEMT industry faces the challenge of manual and time-consuming processes when sharing and managing credentials with partners. Traditional methods, such as emails, phone calls, spreadsheets, and system notes, often lead to errors, coordination issues, and wasted resources.
However, technological advancements offer a solution to simplify and automate these complex processes.
Digitizing Credentials for Enhanced Program Integrity
Credential management systems can categorize, sort, and search these digitized credentials, making tracking compliance status, expiration dates, and other relevant information more manageable. Automating the process minimizes the chances of human errors and makes managing credentials more efficient.
Enhancing Fraud-Proof Checks and Screenings with Technology
The traditional process of submitting PDF documents for background checks, motor vehicle records, and drug tests presents opportunities to manipulate report findings. Technology plays a crucial role in maintaining the authenticity of credentials and minimizing potential risks.
Through technology-enabled solutions, your NEMT business can partner with background screening companies to deliver credentials directly to brokers securely and competently. Encrypted digital platforms ensure that the information remains confidential and unalterable, maintaining the integrity of the screening process.
Automatic Compliance Check
Technology-driven credential management systems can enable you to implement automated compliance monitoring.  
These systems integrate with various data sources and regulatory databases, allowing for continuous and real-time compliance status monitoring. This automated process eliminates manual verification and significantly reduces the risk of overlooking expired or invalid credentials.
The system provides instant notifications and alerts when credentials are approaching expiration or are deemed non-compliant. Real-time access to such information allows providers to take immediate action, such as initiating renewal processes or addressing compliance issues promptly.
Automating Credential Audits
As an NEMT provider, when you automate the audit of credentials based on your partner requirements, you alleviate much of the compliance burden on your business.
Automated credentialing systems compare submitted credentials against partner-specific criteria, ensuring alignment with their unique credentialing standards. This automated approach eliminates the need for time-consuming manual reviews and simplifies the auditing process.
Real-Time Synchronization of Provider and Driver Information
Automated credential systems empower your business to efficiently manage roster updates, ensuring accurate and up-to-date provider and driver information.
These systems can integrate with various data sources, such as HR databases, licensing authorities, and certification boards. Automatically capturing updates or changes eliminates the need for manual entry and reduces the risk of errors or omissions.
The credential system can monitor the expiration dates of licenses, certifications, and other credentials, sending proactive notifications and reducing the risk of operating with expired credentials.
Tobi: The Modern Way to Manage NEMT Operations
Combine an automated credential management system with Tobi, and simplify your NEMT business's end-to-end management. 
Tobi can handle multiple fleets' scheduling, dispatching, billing, and reporting. You can customize pricing structures and benefit from real-time GPS vehicle monitoring.  
Using Tobi empowers your business to stay compliant, optimize operations, and enhance efficiency. Signing up for a credential management system is the first step to running a compliant NEMT business.  
Tobi is your foundation for a modern NEMT operations management platform.