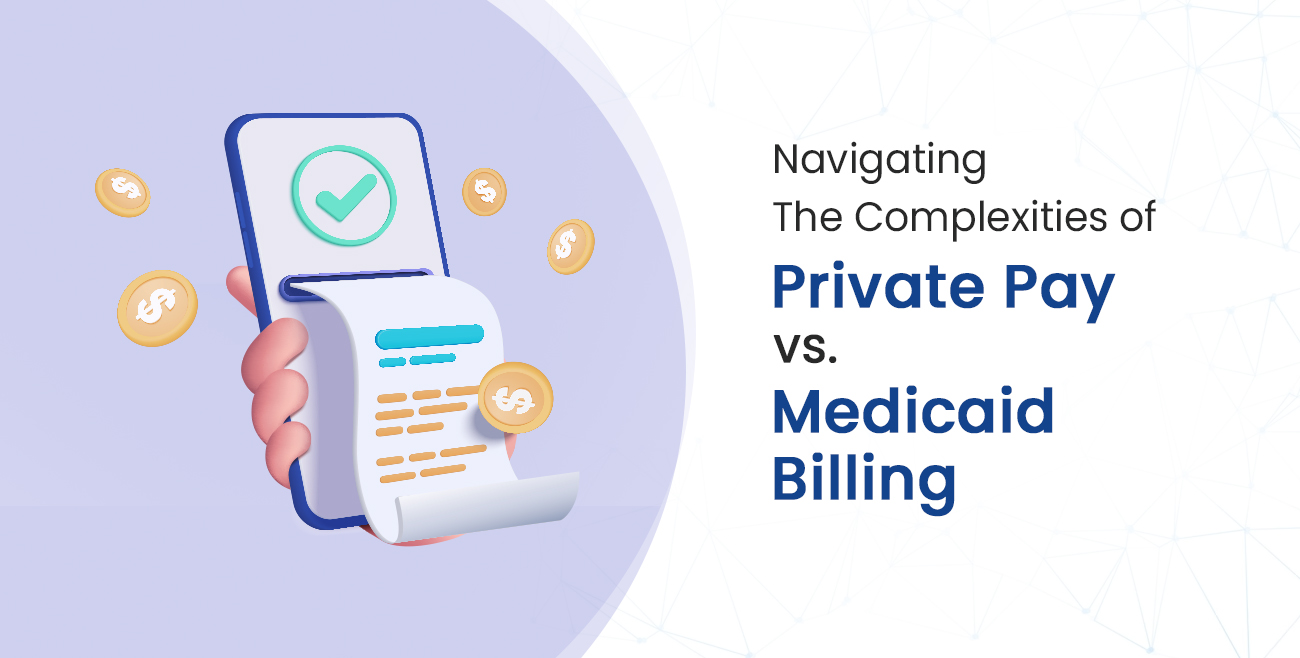 Navigating the Complexities of NEMT Billing: Private Pay vs. Medicaid
There are many types of Non-Emergency Medical Transport (NEMT) services. Fleet managers offer customers different categories of vehicles and services like ambulettes, wheelchair vans, door-to-door service, or centralized pickup.
But whatever the type of NEMT service, fleet operators can leverage many billing options. This article will discuss two billing options for NEMT fleets: Private pay and Medicaid.
Both private pay and Medicaid billing can be challenging to navigate. We have explained Private Pay and Medicaid NEMT billing, its reimbursement process, and the payment methods they support.
The Importance of Proper NEMT Billing
Medicaid billing relies on providers using a CMS-1500 form. Brokers then approve this claim, and service providers receive the payments for their services.
If brokers clear reimbursement claims, it can lead to timely service payments, healthy business cash flow, and legal compliance.
However, improper billing by service providers can mean that brokers deny claims.
Even providers who thoroughly understand the NEMT billing process may require assistance navigating the Medicaid billing process, especially if they still rely on legacy billing processes or manual documentation.
NEMT software with billing and claims management features can automate this cumbersome process, reducing human errors and chances of claims being denied.
Private Pay vs. Medicaid: An Overview
When talking about private pay, we mean the payment made by individuals out of pocket to cover their medical transport expenses.
In contrast, Medicaid is a program jointly funded by the federal and state governments that cover healthcare costs for low-income individuals and families or people with disabilities.
Medicaid covers a range of necessary medical appointments, such as doctor visits, hospital stays, and long-term care. An individual's income, assets, and family size determine their eligibility for it.
Eligibility for Medicaid
Eligibility for Medicaid NEMT billing varies by state, but typically, individuals must meet the following requirements.
Enrollment in Medicaid: Individuals must be enrolled in the Medicaid program in their state.
Medical Need for Transportation: Patients must have a medical need for transportation to receive healthcare services, such as doctor visits, diagnostic tests, and physical therapy.
Income and Asset Limits: Individuals must meet certain income and asset limits to qualify for Medicaid.
Qualifying Medical Condition: To be eligible for NEMT services, individuals must have a qualifying medical condition, such as a disability, chronic illness, or other medical need.
| | | |
| --- | --- | --- |
| | Private Pay | Medicaid NEMT |
| Payment Amount | Higher compared to Medicaid NEMT. | Typically, lower than private pay or payments from private health insurers. |
| Eligibility Criteria | No specific eligibility criteria. Anyone can use the service and pay out-of-pocket. | It is only open to Medicaid beneficiaries. |
| Payment Methods | Private pay customers can use various payment methods like credit cards, and personal checks. | The government funds Medicaid NEMT, and payments are made directly to providers through brokers. |
| Coverage | Private pay customers have more flexibility in the services they can employ. | Medicaid NEMT covers transportation services only for medically necessary appointments and treatments. |
Table: Comparing Private Pay with Medicaid NEMT
Private Pay NEMT Billing
The cost of private pay NEMT services can vary depending on the transportation provider and the specific needs of the individual.
The general process for private billing payments to NEMT services typically involves the following steps:
Step 1: Service Delivery
The NEMT provider delivers medical transportation services to the individual.
Step 2: Invoicing
The company sends an invoice to the individual, itemizing the cost of the services provided.
Step 3: Payment
The passenger pays the NEMT service provider directly using any supported payment method, just like any other service provider.
Step 4: Follow-up
The NEMT provider may follow up with the customer for payment issues.
Typical Payment Methods
All popular payment methods are available for private pay customers in NEMT.
Credit Cards: One of the most commonly used payment methods, credit cards such as Visa, Mastercard, and American Express are widely accepted as payment options for NEMT services.
Debit Cards: Like credit cards, debit cards are a popular payment method for NEMT services. Debit cards provide direct access to an individual's bank account.
PayPal: It's an online payment system that allows individuals to pay for NEMT services without sharing sensitive financial information such as credit card or bank account details.
Personal Checks: Although less common than electronic payment methods, customers can use personal checks to pay for NEMT services.
Cash: While still a widely accepted payment method, cash is becoming less popular due to concerns regarding security and accountability.
Medicaid NEMT Billing
Medicaid NEMT billing involves submitting claims for reimbursements after providing transport services. Fleet operators invoice the health insurer or Medicaid directly for services rendered, not the customer.
Brokers and Medicaid Billing
Typically, transportation brokers are an essential cog in the Medicaid NEMT billing life cycle.
Brokers aggregate service requests and ensure compliance of NEMT fleets. The brokers also vet and contract with transportation providers to provide NEMT services.
For Medicaid transport services, a beneficiary must be enrolled in Medicaid and must require transportation for medical reasons. The broker verifies that NEMT providers submit claims only for eligible Medicaid beneficiaries.
Step 1: Scheduling Transportation
Brokers send batches of transport requests to contracted fleet operators, who then schedule and dispatch vehicles to pick up customers in time for their medical appointments.
After the service, NEMT providers send the broker an attestation request for approval. Once approved, the fleet operator can submit a claim for the service.
Step 2: Billing and Claims Submission
Transportation providers use a Medicaid billing platform, like Kinetik billing, to submit their claims.
The billing platform then presents the claim to Medicaid for reimbursement. This claim invoice includes relevant information such as the patient details, date of service, the type of NEMT service provided, and the Medicaid ID number of the beneficiary.
Step 3: Review and Processing of Claims
Once the fleet operator submits the claim, Medicaid reviews it by matching the attestation and details on the claim form to a central database.
This step includes verifying that the beneficiary is eligible for NEMT services, that the services provided are medically necessary, and that the billing codes and amounts quoted are accurate.
Step 4: Payment of Claims
If the claim is approved, Medicaid will reimburse the transportation provider for the cost of the NEMT services.
If the claim is denied or rejected, service providers must follow a pre-set process to appeal the denial or resubmit the claim.
Typical Payment Methods
When it comes to reimbursements for Medicaid Non-Emergency Medical Transportation (NEMT) services, there are a few standard options:
Electronic Funds Transfer (EFT): This method is the most efficient and secure way to receive reimbursement from Medicaid. With EFT, Medicaid directly wires funds to the transportation provider's bank account.
Physical Checks: In some cases, Medicaid may issue a paper check, but this method is less secure and may take longer to process than EFT.
A Note on Electronic Remittance Advice (ERA)
An ERA contains the payment information for claims that Medicaid or HMOs process or reasons for claims rejection or denial.
It provides detailed information about Medicaid payments, including any adjustments. Transportation providers receive the ERA electronically, which can help them reconcile payments and address any billing issues.
It contains the reason code or explanation for rejected or denied claims which fleet operators use to identify the reason for the delay in payment.
Challenges in NEMT Billing
The Medicaid NEMT billing process can be complex, so transportation providers must comprehend the billing procedures and requirements for submitting reimbursement claims – including billing codes, guidelines, and regulations.
Complex Reimbursement Process
The Medicaid NEMT billing process can be complicated, with various rules and regulations that make it difficult for providers to receive timely and accurate reimbursement for their services.
Limited Reimbursement Rates
Medicaid NEMT reimbursement rates are often lower than other types of transportation services, making it challenging for providers to turn a profit while still offering high-quality services.
Administrative Burden
Medicaid NEMT billing requires significant documentation, including medical necessity forms, trip logs, and invoices. This documentation can be time-consuming and resource-intensive for providers, creating an administrative burden.
Lack of Integration with Electronic Health Records
The billing process often needs integration with NEMT technologies like electronic health records management tools, making tracking and managing patient information difficult.
Lack of Standardization
Medicaid NEMT billing processes vary among states and counties, making it challenging for providers to understand and comply with all the requirements in their business area.
Conclusion
When considering the pros and cons of private pay vs. Medicaid NEMT, it's important to note that both are valuable sources of business for NEMT fleet operators.
Medicaid NEMT bookings are aggregated and sent to providers by big brokers. So, it's a guaranteed source of regular income.
However, private pay NEMT bookings can translate to enormous profits for NEMT businesses.
A private pay trip means much less compliance, a chance to create lasting and meaningful relationships with passengers, and a larger share of the profits from a trip.