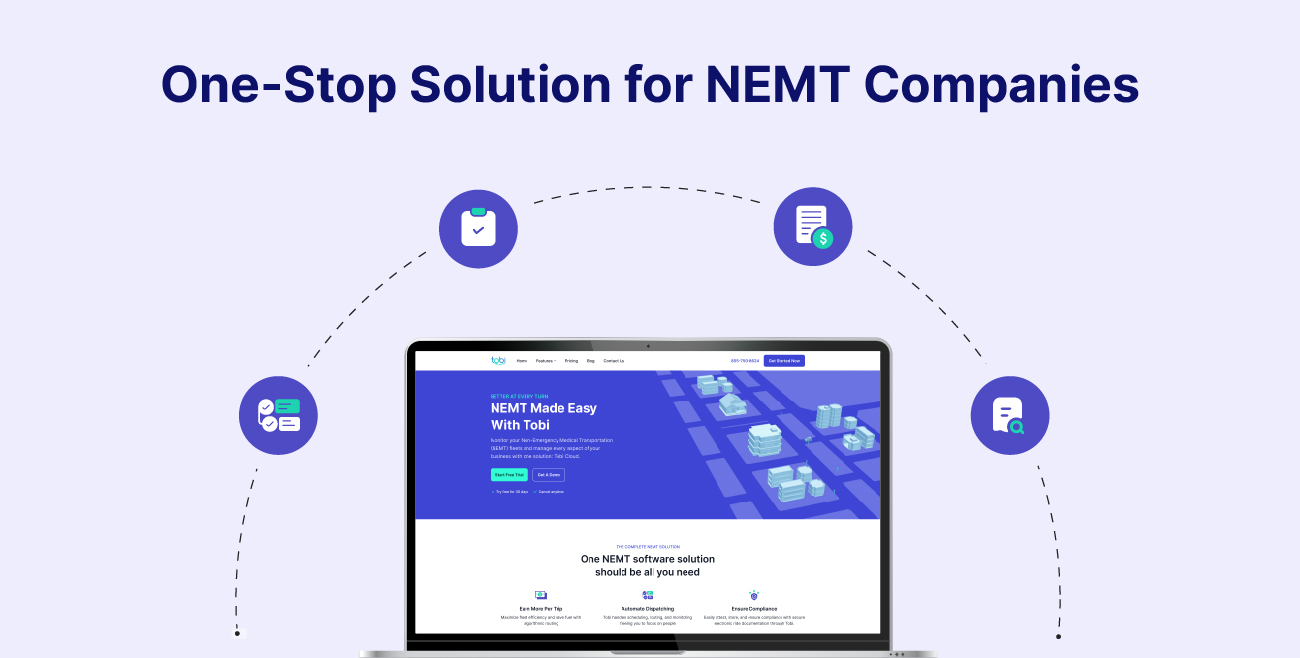 Tobi: Setting the Standard of Excellence in the NEMT Industry
The US's Non-Emergency Medical Transportation (NEMT) market is worth upwards of $15 billion. And this is projected to grow at a blazing rate of almost 8% yearly until 2028.
If you're considering starting an NEMT business, one of the first tools you'll need is NEMT software. NEMT software delivers many business advantages that will help you outperform your competitors. 
However, determining if an NEMT solution meets the needs of your business can be difficult. That's why we designed Tobi to be a one-stop NEMT software solution.  
What is Tobi? 
Tobi is a cloud-based NEMT solution. It brings together transport operations and business intelligence in one platform.
NEMT providers used to need separate tools for dispatch, scheduling, billing, and reporting. Tobi gives you the power to do everything from a single software solution.  
Not only that, but all those formerly disparate tools work together seamlessly. Tobi removes the hassle of maintaining multiple software platforms and integrating incompatible systems. 
How Tobi Works 
Traditional NEMT providers receive requests from patients or care providers (like hospitals or clinics).
Providers log these requests into their system to begin processing them and collect any necessary pre-authorizations. Then, the trip is assigned to either a contractor or a vehicle in their fleet or network.
The vehicle driver then must interact with the passenger directly. The driver then picks them up and drops them off according to a pre-arranged and fixed route.
With traditional NEMT companies, these are all manual operations. 
Tobi does all this and more through a single platform. We also have a driver's app that simplifies live tracking, monitoring, and trip-end documentation.  
How Tobi Addresses Common NEMT Business Challenges  
Tobi's end-to-end feature set helps solve the most common NEMT business challenges. 
Customer experience – Late arrivals, no-shows, missed appointments, etc., can negatively impact your scheduling. Tobi enables you to mitigate that impact with highly responsive customer service and timely driver-passenger communication. With Tobi, you deliver the best possible customer experience every time.   
Flexibility – With a fixed or rigid operation structure, traditional NEMT providers cannot be responsive to time-sensitive requests or last-minute changes. Tobi allows you to meet customers' needs without disrupting your scheduled rides. 
Oversight – Our built-in data collection process is a crucial business advantage of Tobi. Providers can now access external data sources to analyze their performance and ensure transparency and compliance with state and federal laws. 
Fraud prevention – System abuse could leave your business vulnerable to insurance fraud investigations without sufficient data and transparency. Tobi provides fraud prevention measures like automated trip attestation to keep your business safe. 
Efficiency – Tobi enhances your operational efficiency with AI and machine learning. Our proprietary algorithm learns your company's trip patterns, and our AI engine optimizes your dispatching. 
Features That Set Tobi Apart from the Competition
We designed the Tobi software platform to help fully automate and streamline the daily activities of NEMT operators by including the most popular NEMT software features.
Here are the top features you can expect from Tobi:
Multi-Fleet Management
One significant advantage of our software is that you can manage one or multiple fleets of vehicles on the same platform.
If you are a small non-emergency medical transport company with one fleet of vehicles, you can control the dispatching and everything right through the software.
If you have multiple fleets—or even multiple companies—you can manage them in a single dashboard. It even allows fleet dispatching with subcontracting and permission settings.
Customized Price Modeling for Immediate Quoting
Not all rides cost the same. It makes sense to raise prices during rush hours or periods of high demand to reflect these variances. Sophisticated price models are essential for this. 
The sophisticated price modeling platform from Tobi helps you price faster and more accurately for each job. You can even get to a granular level with customization rules, including the type of vehicle, day of the week, and even time of the day.
Pricing needs to be transparent and consistent. Tobi's software price modeling allows you to create custom formulas unique to your company and your fleet of vehicles.
When customers request a quote, the price modeling algorithm gives them an accurate cost.
Real-time GPS Tracking 
Tobi gives you real-time GPS-based monitoring and tracking on all your vehicles.
It ensures that customers receive real-time updates on drivers' locations and simultaneously enables transparency and accountability of all drivers in your network. 
Drivers can use the GPS technology and the driver interface within Tobi's Driver App.
It enables them to understand traffic ahead and get real-time directions to help them get to their destination using the fastest available route.
If you need to make decisions on the fly as a dispatcher or driver, Tobi's GPS vehicle monitoring features allow you to do so.
Automated Scheduling
Tobi uses the latest advancements in machine learning and artificial intelligence regarding scheduling.
Our software's proprietary algorithm analyzes the trip patterns of your fleet over time. It accounts for a trip's average distance, length, and more.
Using this data optimizes your scheduling platform and automatically plans the best routes and times for each ride.
This type of automation helps you get the most out of your fleet, increasing your on-time pickup rates and customer service scores.
Automatic Trip Attestation
Post-trip documentation can be a real problem for many organizations.
With drivers out on the road all day, it can be challenging for them to get back to the office and do paperwork so your broker will pay you.
With Tobi, you can get your trips attested automatically once a ride ends so that your documentation is done and payments are received faster. 
Our software lets your drivers and patients sign electronically as soon as the job is done.
With this electronic signature complete, you can transmit it directly to a broker, providing instant verification and attestation of a complete job.
Tobi helps you get paid faster and more accurately.
Built-In Accounting Software
The accounting side of the house can be a challenge for a non-emergency medical transport professional.
You want bookkeeping to be simple and efficient.
Tobi's built-in bookkeeping feature automatically generates an invoice once a job is finished and transmits it electronically.
From claims to statements to accounts receivable, Tobi automates your accounting process to help lower your overhead costs and increase your margins.
The quicker your documentation is completed, the faster you get paid.
Open API For Easy Integrations
Already have a vendor or broker you like working with?
Tobi's Open API integrates with the leading Medicaid brokerages to help manage trip aggregation while simultaneously giving you access to different trip sources.
Tobi gives you enhanced flexibility as a customer to work with any provider, customer, client, system, vendor, etc.
Billing and Insurance Claims 
Tobi integrates invoicing and billing into the platform, so you don't need to purchase separate NEMT billing software.
Streamline billing, claims, and reimbursement management with our cloud-based platform.
Tobi allows you to monitor your claims' status and receive instant payment updates.
How Tobi Helps NEMT Companies 
While these are a few of the many features of the Tobi platform, Tobi can do even more to help your NEMT operation earn more.
Using the latest technology innovations that deliver an edge to NEMT businesses over their competition, Tobi helps you: 
Quickly scale your business  
Minimize the need for manual dispatchers  
Enable a more comprehensive reach for rapidly growing your business  
Offer on-demand services to customers 
Improve driver satisfaction and retention  
Enhance the customer experience  
Reduce instances of fraud  
Increase business efficiency   
Minimize human error 
Meet all compliance and regulatory requirements 
Prepare for the Future with Tobi
It's no secret that the NEMT industry is growing at an impressive rate, and having the right software solution can make all the difference in the success of a business.
As a cloud-based NEMT solution, Tobi offers an all-in-one platform for transport operations and business intelligence, streamlining daily activities, enhancing operational efficiency, and addressing common NEMT business challenges.
Features such as multi-fleet management, customized price modeling, and real-time GPS tracking set Tobi apart from the competition.
If you're thinking of starting an NEMT business or improving your current operations, try Tobi free for 30 days and see how your business can be better at every turn.